web design adelaide
Your website is the online home of your business.
Let's face it, your business is not generic and faceless and there is a growing expectation in our modern, online driven world that your online presence clearly reflects its human side too. People want to feel like they know you long before they actually meet you face to face.
Your website needs to be inviting and speak to clients in the same way your premises do. It's the place where they can sense your warmth, trust in your knowledge and understand how you can help them before they have even met you.
At Hardwood Digital we offer affordable web development and design services with a strong focus on user experience, lead generation and effectively marketing your business online.
Take Note: 81% of people conduct online research before making a purchase or choosing a service provider.

Brighton and Paragon fitness operate as a single business but were managing a separate website for each gym.
Hardwood Digital combined all the necessary information into a single site whilst preserving (and increasing) the organic search rankings of the separate sites. Features of the website include an interactive class schedule, integration with gym membership software and payment processing.
The Brighton Fitness website has simplified the membership join and renewal process and is currently ranking high on the front page for gym and gym classes in the suburbs each gym is located.
A great website starts building rapport with your potential clients from the moment they land.
It's the first point of contact for most people and their first impression of your business will be greatly influenced by what they find.
We've worked with dozens of businesses to help them craft a solid online presence.
Your website is the cornerstone of that presence.
We have the skills and expertise to build your online home in a way that not only makes people feel at home when they land, we'll help you to digitally take them by the hand and walk them through who you are, how you can help  AND what the benefits are to them  when they choose you.
1. UNIQUE
Your website will be completely unique to your business, we build from the ground up to create a site that makes the perfect first impression and politely asks your audience to consider you.
2. USER FRIENDLY
The websites we develop follow best practice responsive principles to deliver an optimised viewing experience across a full range of desktop, tablet and mobile devices.
3. EFFECTIVE
PLUS, we take things one step further. Not only will your website be beautiful and functional it will also work to effectively market your business. We build with marketing in mind, enabling you to collect and track new leads in a way that will means you can stay in contact and continue to establish a relationship.
Websites built for local businesses, by locals.
The Brighton Jetty Classic is South Australia's largest open water swim event, held on the first Sunday of February each year.
The website was completely redeveloped following the 2016 event to create a clean, modern feel that fits the strong branding and street festival vibe of the event.  The primary purpose of the website is to promote the event, enable ease of registration, showcase sponsors and make event information easy to find.
In addition to the website redesign Hardwood Digital undertook social media management and Facebook advertising for the event from December 2015 with excellent result. The strategy was centered on creating strong community engagement with consistent, but subtle event promotion. Collaboration with and cross promotion of sponsors allowed for greater organic reach.
Click Here to Visit Brighton Jetty Classic Website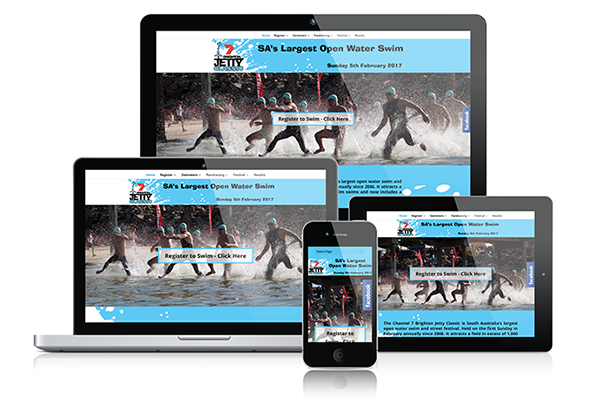 Standard Website Development Package:
in a nutshell:
5 Page responsive website featuring modern mobile first design, optimised to effectively market your business as per a design brief developed in conjunction with you. We make this process easy for you.

Integration with email database so that you efficiently collect and follow up with leads.

Best practice security hardening, antispam and back up setup to protect your site and insure you in case of disaster.

SEO ready to help you get found.

Integration with social media because your website is your home but social media is where you get out and about in the community.



eCommerce Website Development Package:
You've got products to sell and want to create an online boutique that's as gorgeous as your storefront. We've got you covered.
You get everything in the standard package, plus:
Easily navigable online store with simple, fast checkout facility using your preferred payment gateway, because online shopping needs to be easy.

Wishlist function plus email marketing and remarketing to help you turn browsers into buyers.

Extensions available that enable you to easily offer and manage affiliate partnerships and create product subscriptions that ensure recurring income.
eLearning and Membership sites:
More and more people are going online to find alternative ways to learn.  Likewise, in the quickly evolving modern business landscape it's important that service based businesses can offer products, a Membership portal or eLearning platform is a great way to introduce this.
Each site is created bespoke to your needs, we'll help you to choose the best system and set up for you.
We have considerable experience in building and managing these sites. Combine that with the hands on know how of having created our own digital products from scratch.
As well as building the site for you we can guide you through the content development process, help keep you on track and provide technical advice in areas beyond your website.
These sites range from super simple through to highly complex and we definitely do not have a one size fits all approach here. We'll make sure your site has everything it needs but won't talk you into adding expensive things you don't.
We worked with Becky to add online products to her already thriving tutoring business. from concept development to website development and online marketing strategy. The website has been created as an interactive learning resource featuring both free and paid content.
The Becky Blake – Study Skills Rockstar website as been designed to address four common issues experienced by teenage students. Beyond the main website are two course websites that contain the paid content. Landing pages, remarketing and key list building elements have been inbuilt within the website.
About 80% of all small business websites use the WordPress platform.

Yes, we do use the WordPress content management system (CMS).
Why? Because it's dynamic simple for you to make adjustments and add content as needed. We won't be locking the site down once we're finished with the build then charging you $500 to change your business opening hours. Don't laugh, that really does happen.
Our websites do cost you more than $599, that's because they are custom built for you and your business needs. They're also built with a strong focus on marketing your business, there are a number of components we include as a standard part of your build that other developers and designers won't.
We recognise that you have probably paid to have a website developed before, there's a good chance it wasn't cheap and is possibly no longer fit for purpose. The thing about anything technology related, it changes, and seemingly at an alarming rate.
More than 25% of all websites use the WordPress CMS (for perspective the two closest competitors combined represent less than 5%), it is quick to adapt to changes in how and where consumers are engaging with websites and consequently you can feel secure that your website won't need another major overhaul seemingly seconds after the build is completed.
Let us give you a hint here, if it's not mobile responsive then it's a bit like a VHS video.
We talk about custom built and once upon a time that meant really expensive because the code for your site was written for your site and your site only.
What we mean now is that we use an infinitely customisable, popular and robust framework to pull together the building blocks that will become your unique website.
We don't use an off the shelf theme and charge you thousands and thousands of dollars to take your content and plug it into a fixed template that someone else created. Trust us when we say that there are businesses that will exploit you like that too.
Balance Fitness For Women offer coaching from qualified Personal Trainer, Mica Worby. Mica offers bother 1:1 and group training sessions at two locations across Adelaide and needed a website that would help women to connect easily with her and enable them to book sessions.  Consequently the website features strong images of Mica working with her actual clients.
The Balance Fitness For Women website is a great example of how using real life images on your website illustrates quickly and clearly who you are and what you do.